We are so pleased to announce that CASA will again accept the quilts from our 3rd challenge, "Watch for Rainbows".  We thought this challenge would be so appropriate for kids in foster care.  The Rainbow is a sign of a promise. With a promise, there is hope and with hope there is a chance for change.  CASA is the organization that can take our special quilts and distribute them to the kids that need them the most.  We hope you will consider joining our challenge this year.
This zig zag quilt is one that we completed to donate.  It's so bright and fun that we hope it will inspire you to take part in our challenge this year. (We used the challenge fabric as our binding.)
The kickoff date for the challenge is Friday, August 16th.  We will have our challenge kits ready to go on that date. The cost is $18.00 and it will have 1 yard of the challenge fabric, a possible pattern to use, the label and the entry form. Kits will be available in the shop and online until we run out.
How to Enter
As usual, there are very few rules.  Actually, we will be thrilled to have quilts any time to give to CASA, but to be eligible for our prizes, the quilts need to:
Use some portion of our challenge fabric,
Be accompanied by an entry form,
And be turned into the shop by Tuesday, March 10th, 2020.
When is the 42nd Anniversary Quilt Challenge Show?
Our quilt show will be Friday and Saturday March 13th and 14th, 2020.  Last year we had over 400 visitors at our show.
The selection of winners in our quilt show is done by Viewers Choice.  We will have gift certificates to Creations for our top ten vote getters:
First Favorite: $300.00 Creations Gift Certificate
Second Favorite: $200.00 Creations Gift Certificate
Third Favorite: $100.00 Creations Gift Certificate
Favorites 4 – 10 will each receive a $50.00 Creations Gift Certificate
And, we like to reward the person who makes the most quilts…
The one who makes the most quilts will receive a $200.00 gift certificate to Creations.
Everyone's a Winner
Everyone who completes a quilt, using one of our kits, and turns it in before the deadline will receive a $15.00 gift certificate to Creations. We would love to have all quilts made, but only those quilts finished from purchased kits are eligible for the $15.00 gift card.
We hope you will join in the fun and enter a quilt.  You can see videos of our past two quilt shows in blog posts below.
Challenge Quilt Kits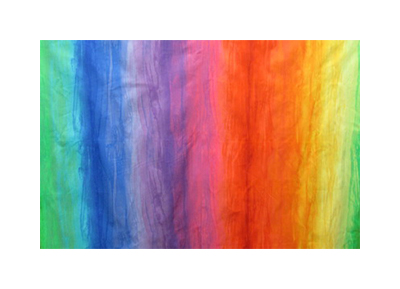 Our challenge kits will be very simple this year.  For the $18.00 Challenge Quilt Kit fee, you will receive one yard of this digital print rainbow fabric.  The rainbow is stretching from selvage to selvage.  The kit will also include a suggestion for a pattern that you can use or not.  There will also be the quilt label and your entry form.
You can do anything that inspires you.
Our suggested size range is: whatever size you would like to make.
We love the small quilts for the young kids and larger ones for kids aging out of foster care.
New this year there will be the opportunity to win a finished quilt from Creations just by entering a quilt of your own.   Everyone who enters a quilt, will have the chance to win the quilt we will give away. 
If you can't come pick up one of our kits, we will be glad to send the Challenge Quilt Kit to you.  We will again pay the postage to get your Challenge Quilt Kit to you as long as you are in the US.
We have some other great ideas for the show, but we will tell you all about that later as it gets closer.  Right now we all need to get working on those quilts!