Hope you are enjoying my conversations about various threads and needles and decorative stitching.  No thoughts would be complete without talking about metallic thread.  I can already hear the "ugh's" and "My machine doesn't like that thread"…  I am here to tell you that your machine doesn't really know what he likes.  He knows how he likes it presented to him.  (Have you noticed that I always refer to my machine as "he"? Not sure what that is about, but maybe it's the only "he" that ever does what I ask!!)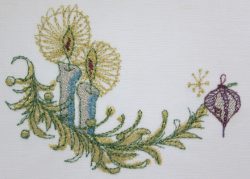 It doesn't matter if you are using your embroidery machine, free motion quilting or doing controlled decorative stitching on your sewing machine, I have a "cheat sheet" that will help you with the correct way to present metallic thread to your sewing machine.
The design to the right was done on my Brother Dream Machine because it was a built in design. It was totally stitched with metallic thread.  There are 7 colors and 3 different brands, Brother, Sulky and some old Gutterman I had. The results were great with all 3 brands.
The tree was also done on the embroidery machine and the total run time for the gold metallic was 15 minutes.  I didn't have any thread breaks.  I actually went off to do something else and came back and I had a tree!
This design would be wonderful on a guest towel for the holidays….just don't let them use it!!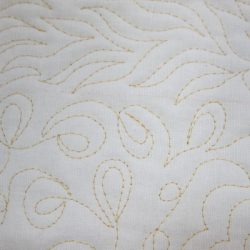 Metallic thread also works when you are doing decorative stitching or free motion quilting.  You can use all those great detailed stitches on your machine that don't really look good if the thread is heavy.
I'm definitely not an expert at free motion quilting, but my doodles look great with metallic thread.  I'm best if I work in a small area at a time.
I don't have any big secrets to enjoy working with metallic thread, I use some specific settings for my machine:
 Use a good quality metallic thread – not the cheapest thing you can find online or a big box store.  Check with a machine dealer. There is no need to purchase a cone of metallic thread.  It won't work well on your home sewing machine.
 Put in a new size 90 Metallic or 90 Topstitch needle.
 Use Bottom Line in the bobbin.  Select a color that's close to the color you are using on the top.  If you are using multiple colors, match your background with your bobbin thread.
Set your top tension to "1".
Slow down
Use the proper stabilization for your machine embroidery project or decorative stitching.
The most important is how the thread is coming off the spool.  If you set a spool of metallic thread on the table and start pulling thread up, you will quickly see that it starts to twist like a garden hose.  If you pull the thread to the side of the spool and the spool turns with it, you won't have any issues.  It will come off smoothly.
There is an accessory you can get for your machine called The Thread Director.  This little gadget makes it possible for your metallic thread to come off the spool so there are no twists or tangles.
It's a funny looking gadget. I have a picture of it on my machine with metallic thread. You want to be sure that your spool will turn easily when the thread is pulled off.  Be sure there isn't anything deterring the free movement such as paper stuck down in the spool hole.  You won't have this issue with Brother or Sulky threads, but check if you are using another brand.
---
I hope you will give metallic thread another try if you haven't had success.  You can find both Brother and Sulky threads on our website as well at the Thread Director.  Don't forget your Metallic or Topstitch needles.  Check out all our Brother and Sulky Metallic Threads at Metallic Threads.