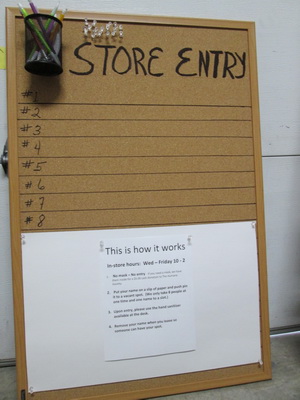 Beginning Wednesday, June 3rd, we will try inviting customers back into our shop.  Our hours of operation for the month of June will be Wednesday, Thursday, and Friday, 10am – 2pm.  If our system isn't successful, we will close again to in-store shopping.
To ensure the safety of our customers and staff, we will only be able to have 8 customers in the shop at any time.  Bring your mask and bring your patience.
The only door open will be the lower door that faces our parking lot.  We will have this cork board at the door.  You will be able to get a spot by writing your name on the slip of paper provided and putting it in an available slot.  When you leave, if you will remove your name, someone else can have your spot.
THIS IS HOW IT WORKS:
— If you in any way don't feel well, we ask you to be considerate of others and stay home until you are well.
— We will all wear masks in the shop.  It doesn't matter how you feel about them, but in consideration of others we will all wear them.  So it's No Mask – No Entry.  Simple.  If you forget your mask, we will have them available inside the door for a $5.00 cash donation that will be given to the Humane Society.
— Once inside the door, we will have hand sanitizer that we encourage you to use.
— Unfortunately, we will not be serving coffee or have candy as you can't eat or drink while wearing a mask.
— This isn't the Creations we want, but it's the one we currently have so we hope you will bring your patience.
— If all the spots are taken, you can write you name on a slip of the paper and start a "next in line" list on the right hand side of the board.