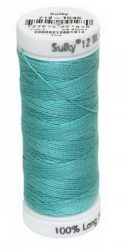 I have sold sewing machines for 42 years so I've "seen a thing or two".  Machines have always had decorative stitches, but we didn't always have a variety of threads.  It's the thread, needle, tension, and stabilizer combination that makes for successful decorative stitching.  Sounds confusing, but it's really not when I give you my little "cheat sheets" on how to set your machine.
I do have a disclaimer.  We have been a Brother dealer for about 25 years and an Elna dealer before that.  The information I will share will be directed to the Brother machine for the tension settings, and accessories.  Since Brother makes Babylock sewing machines, you will find the same settings easy to follow.  I can't speak for other brands, but a sewing machine is a sewing machine with tension settings, stitch selections, needles choices and needed stabilizers.  I feel anything I say will be able to be applied to other machines.
The one with the most decorative stitches doesn't win here. Most often, the more basic stitches are preferred for heavy threads. In the coming weeks, I will cover settings for working with not only heavy 12 wt thread, but also metallic thread.  I will also show you the set up for bobbin work and various feet for using cords.  All of your practice pieces can be used, even if just for a small accent in a larger project, so don't toss them!
This lesson we are going to start stitching with 12wt thread in the needle.  Remember, the lower the # of the thread, the thicker it is.  The lowest number that will comfortably go in almost every machine with a 100 Topstitch needle is a 12wt.  You will find that different brands of 12wt will actually be slightly different in weight.  The brand that we have found works consistently in all of the machines we have used is the Sulky Brand.  We have carried several others over the years and always come back to Sulky as the machines easily stitch with this one. We also like this one because you can get small spools on many of their colors.  You will use a different thread on the bobbin so your thread will go a long way when decorative stitching.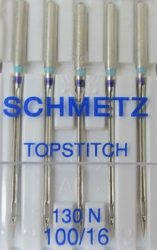 The next consideration is the top tension.  Again, simple.   Set it to "1".  The Brother/Babylock machines have a "normal" tension of 4, so it is considerably looser.  The tension needs to be loose so that your bobbin thread will be able to pull the heavy thread to the backside of your work.  This way, the bobbin thread won't show. My choice for bobbin thread is Metrosene 50wt.  We need a bobbin thread that is heavy enough to hold down our 12wt thread.  If we have a very light bobbin thread, we won't be able to loosen the top tension enough to keep the heavy top thread from pulling our bobbin thread up.
You will have better results if you use cotton or cotton/linen blends of fabric as your background.  I always use spray starch to stiffen my fabric.  For all your practice pieces, use Sulky Tear Easy under the fabric.  This is all the stabilizer you will need if you spray starch your cotton or cotton/linen fabric.
The needle choice is a deal breaker.  It's simple. Use a 100 Topstitch needle for success.  The very first thing I do when beginning to use a heavy thread is change the needle.  If you have a machine with one of those great automatic needle threaders and you use it without putting in a 100 Topstitch needle, you will bend it and have to have it replaced.  Ask me how I know!.  Always, put in a 100 Topstitch needle FIRST.
Your last consideration is the foot you use on your sewing machine.  For the Brother/Babylock it is the "N" foot.  The "N" foot rests on what I call sliders so that there is a gap to allow the thicker threads to move easily under the foot.  Regardless of what foot your machine suggests, if you are using 12wt thread, use the "N" foot.
I stitched some samples for you to see the impressive difference in Aurifil 50wt on the right and Sulky 12wt thread on the left.  Each of these samples easily shows how heavy thread can make your stitching look more like hand work.  These are all simple stitches, nothing fancy.
OK…it's time to try it yourself.  Check off the following and you are ready to go:
 Topstitch size 100 needle in your machine before you begin
 Sulky 12wt cotton thread in the needle
 Metrosene 50wt cotton in the bobbin (match the top thread or the background)
Use the "N" foot for Brother/Babylock.  It rests on sliders to allow for heavy thread.
Set your top tension to "1"
Spray starch your cotton or cotton/linen fabric and use Tear Easy underneath
Select a stitch, change the tension and sew.  Remember, experiment with different widths and lengths for the stitches.
If you need any supplies, you can find them all on our website.
Sulky 12wt Thread and Topstitch Needle
I hope you will find as much enjoyment in learning your sewing machine as I have had over the years.