In our recent Decorative Machine Stitching Lesson 1 post we gave you the set up for success in working with 12 wt thread on your sewing machine.  Hope you have a chance to try it and see how wonderful those stitches look when done with a heavy thread using a 100 Topstitch needle. (Be sure and read the Decorative Stitching Lesson 1 Post for the correct setup).
I had so much fun playing with the thread myself that I wanted to share an idea about how to use those "practice" pieces. This is what my first practice piece looked like.  It's pretty much a mess to most people, but it lets me see what stitches I like.  Some might write down the length and width of the best ones which is a fine idea, but I am lucky to have a machine that will remember that for me!  With this practice piece I can refer back to it, and try different stitches as I go along.  If I want to try another stitch, I just put in on the practice piece.
Once I got going, I thought it would be a good idea to use just one color of thread so I could concentrate on the stitches. I just drew a line and did diagonal stitching.  I originally had spaces and rows, but I just kept putting stitches on until it became boring.  I just didn't know when to quit.  I'll cut this up and use parts of it in another project…someday!!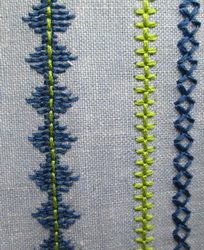 I decided to add more color and sew them in rows.  It gave me more variety and was much more interesting.
I discovered a new stitch.  I used a stitch that had one straight side to it.  After stitching it, I  used the mirror image button on my machine and stitched it again.  It became a wider stitch than what appears to be possible on a sewing machine.  I love that.  Now it didn't exactly line up in the middle, so I ran a triple straight stitch in a contrast color down the middle to cover the gaps.  It made a wonderful design.  It's fun to discover a "new" stitch!  I know your machine has some stitches that would work just like this one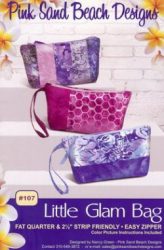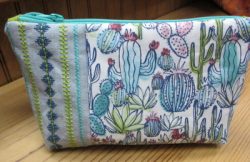 Once I had enough practice pieces, I wanted to make something.  I used one of our favorite little bag patterns called Little Glam Bag.  It gave me some great divisions to use my small pieces.  If you haven't tried this pattern it is a simple little pouch and is a great way to use your decorative practice pieces.  You can order this pattern on our website at Glam Bag.
If you are close to the shop, come by and I'll show you my Glam Bag.  It's fun to play, but it's great to have a finished project!