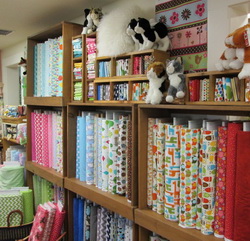 As we get ready to head to the warmest part of the year, our flannel section is full with some great prints.
Just because it's hot doesn't mean that it will be that way forever.  If we keep making flannel quilts, we can keep looking forward to a cooler fall!
If you like elephants, giraffes, and lions, then we have just the prints for you.
Flannels never seem to be out of season so check them out next time you are in the shop.
Be sure to look at our big selection of flannels for children on the Kids Flannel page of our online store.