We are getting excited as our 39th Anniversary event is getting closer.  It won't be long until March 31st.
You might be wondering if it will be "worth it" to make that donation to The Humane Society to secure yourself a spot in the first 100.  These pictures will convince you.  We know that not everyone who wants to pledge will be able to make that first 100, so be sure you know what to do.  Scroll down from this post and read our post entitled "Our Anniversary Warehouse Event".  This will give you the details.  You will know when we will begin accepting pledges, and how they are to be made so that we can be fair to everyone.
In a nutshell, to get your spot in line, we will take e-mail only pledges beginning Monday, March 13th at 7am.  Just e-mail saying you want to be one of the first 50 and we will hold your spot. (creations@creations-online.com)  After the first 50 spots are reserved, we will take 50 more spots for $30.00.  Spots will be assigned by the time stamp they are received on MY computer.  When the sale opens to everyone, we will limit the number in at one time to comply with the building occupancy.  Reservations for your spot in line will only be for Friday, March 31st.  Each person pledging will have to send an individual e-mail.  We won't take multiple names on one e-mail. We will notify you of your spot in line.
Be sure and read the first post to get all the details of how this is going to work.  There is no sense in repeating everything.  We would rather show you more of the "great stuff" we are offering.
If you don't like crowds, we might suggest you plan to come on Saturday.  There will still be great fabrics and plenty of stuff.  You might even find a few cheaper prices.  Be prepared for a crowd, lots of fun, and some great bargains.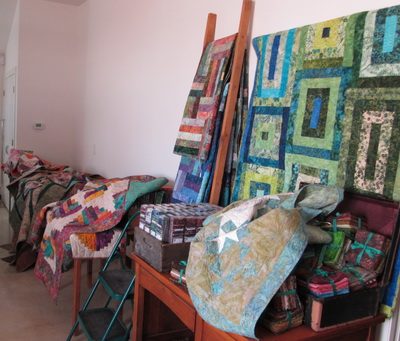 We have been crazy for batiks for over 30 years.  We always have quilts in the shop made from batiks.  We have 12 batik quilts in the sale.  We also have batik fat quarter packs of 20 for $39.00. (In the shop, packs of 20 are $70.00.) There are batik strip packs of 40 – 2 1/2″ strips from Hoffman.  These won't last long marked down from $42.98 to $15.00.
We have a limited number of 1 yard cuts of batik.  These fabrics are $11.98 in the shop, but these cuts will be $4.99 at our sale.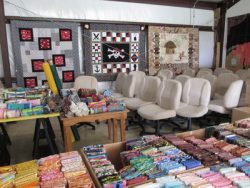 We have 25 Horn chairs that were used in The Main House for just over a year.  New Deluxe Horn chairs retail over $300.00  We have them for  $95.00.  To be fair to everyone, they will be limited to one per FAMILY.  You can't bring your hubby in to claim an extra one for you.  We want everyone to have a chance.  We even have 3 chairs that are still in the box.  These are completely new, but you will have to put them together.
If you are a fabric hound, we will have 3yd cuts for $13.99.  The original price is $36.00 for 3yd cuts.  We also have 1 yd cuts for $4.99.  These prices are originally up to $12.00 per yard. If you want to pick individual fat quarters, you will find them at the sale for $1.50 each.
You will love our fabric strip sets if you like variety.  We have taken strips from the end of the bolt, coordinated them into bundles of 3 yards.  These will be $15.00.  Great buy for charity quilts, applique, or just to add to your stash.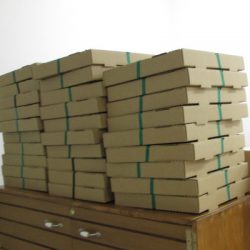 If you love a bargain and a surprise, then our Creations' Pizza Boxes are for you.  First of all, you will get one of the last remaining boxes with our logo.  These are great for keeping blocks flat and projects together.
These boxes are filled with books, patterns, fabrics, finished items, and notions.  We have determined that the retail value of each one approaches $100.00.  We have 39 of these boxes and they will be only $25.00.
They are tied, so you won't know what you have until you own it.  If you have ever gotten one of Creations' "surprise" boxes, then you will know that it is a pleasant surprise.
We want this experience to be fun for everyone. When you get here, remember, no pushing, no shoving and no grabbing.  After all it's only "stuff".