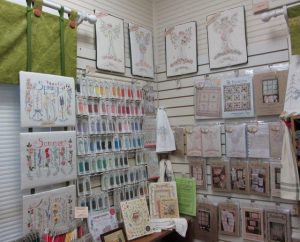 It seems that hand stitchery never goes out of style.  We continue to get new patterns and Maisie continues to make us samples.  Our favorite background for stitching is Essex from Robert Kaufman which you'll find on our linen page.  Once you get to that page, you will have to scroll down through our beautiful digital printed linens to see the solid Essex colors.
We love Crab-apple Hill designs as well as so many others.
You can see what we have available online at Hand Stitchery.
These are just a few of the stitched out samples from Crabapple Hill you will see on your next visit to Creations. Or visit our Crab-apple Hill page in our online store.