We are working almost daily at the warehouse to get ready for our 39th Anniversary Event.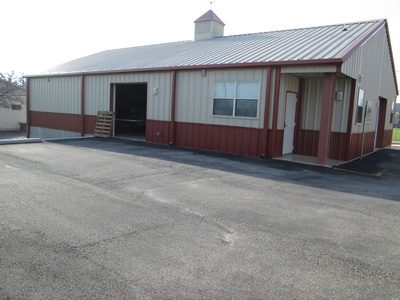 If you were here last year, we will be glad we have made some changes.  We will enter and exit thru the side "garage door".  Not to worry, when you get here we will have it all clearly marked.  Once again, to speed up the check out line, we will be taking only cash and checks.  We will round the dollar amount down to work with even money and no loose change.  If you are writing a check, we would ask you to have it out and ready except for the amount.
Remember, you can reserve a spot in line for the first 50 gals who pledge $50.00 to the Humane Society.  We won't be taking any money, but rather you will write a check to The Humane Society of Kerrville so that you will have a record for tax purposes. This is all explained IN DETAIL in the first post about our sale.
To get your spot in line, we will take e-mail only reservations beginning Monday, March 13th at 7am.  Just send us an email saying you want to be one of the first 50 and we will hold your spot. (www.creations-online.com)  After the first 50 spots are reserved, we will take 50 more spots for $30.00.  We will limit the number in at one time to comply with the building occupancy.  Reservations for your spot in line will only be for Friday, March 31st.
Be sure and read the first post to get all the details of how this is going to work.  There is no sense in repeating all the details.  We have more of the "great stuff" to show you.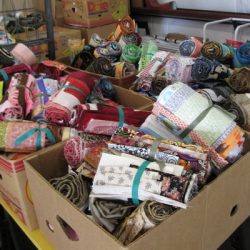 We all love fabric, and who wouldn't want a set of strips that total 3 yards.  We have spent many hours picking and sorting from strips that are left at the end of the bolts. These strips range in size from 2 1/2″ up to 10″.    We coordinate them into colorways, themes, batiks, and flannels. You will find rolls of Aboriginal prints, Kaffe prints, solids, and neutrals.  We have coordinated colors and a few that are just plain scrappy.  Can you tell we had fun making these rolls?   We have over 150 to select from.  What a great starter for a baby quilt, charity quilt, scrap quilt, table runner, or bag.  We had a great time putting them together and know you will have a great time picking them out.
If you were to purchase 3 yards of fabric in the shop, it would be between $33.00 and $36.00 for quilting cotton.  We often have these strip rolls in the shop and we sell them for $19.00 each.  They don't last but a few days.  At the warehouse sale, we will have them for $15.00.  I bet they will be gone quickly.  I want some myself!
We have batik packs of 20 fat quarters.  If you are a batik lover you will be hunting for this table right off the bat! Who could resist these beautiful fabrics?
A pack of 20 fat quarters sells for $70.00 in the shop.  In honor of our 39th Anniversary, we will have these packs for $39.00.  Better reserve yourself a spot in line if you want to find any of these when you get inside.
We will have some great remnants at a discount of over 75% from the original price.  There are some wonderful home dec weight remnants, knit remnants, linen remnants and cotton remnants.
In our next post we will show you some of in quilts we will have available for sale.  This is the only chance you will have to get a finished quilt from Creations.  Be sure and read the first two posts that give all the details about securing yourself a spot in line and avoiding the crowd.