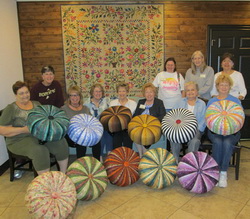 We finished our second tuffet retreat earlier this month.  There were 11 gals in the class and we finished 11 tuffets.  Everyone loved their tuffet, and we loved how different they all looked.
Take a tuffet class with us and know we will be there with the right equipment to get your tuffet finished.  Our next class is June 28th – 30th, but it is currently full.
Call us at 830-896-8088 and we will be glad to put you on our waiting list.
We have just scheduled another Tuffet Retreat for Tuesday, August 23rd – Thursday August 25th.
The class begins at 1pm on Tuesday the 23rd.  We'll sew that day, all the next day, and finish with lunch on Thursday, August 25th.  The cost of the retreat is $270.00 which includes two nights stay at The Main House, all of your meals, and unlimited sewing time.  We would be delighted to have you as a day student for $170.00 which includes all your meals and unlimited sewing.  We have two instructors who will help you complete your tuffet.  Each student has 3 tables to work on.  Our studio is large and has great lighting.
We have the tuffet foundation pattern available for $29.98 as well as the tuffet kit for $129.00.  You must have a kit and pattern.  Other supplies you need are minimal and a complete supply list will be sent upon registration.
If you want to do a tuffet on your own, you can order the pattern and kit on our website at Tuffets.