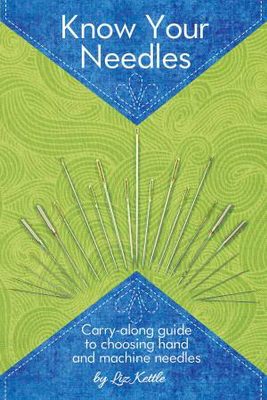 As a seller of home sewing machines for over 40 years, we have seen many changes.  Machines have more capabilities and we have more choices in fabrics and thread.  With these new choices, we need different needles for different jobs.  We are not talking about industrial machines or long arm quilting machines….we know home sewing machines!
We stock over 10 types of needles and about 5 sizes in each type.  It can be very intimidating when trying to decide which needle and size to use.
Sizes of needles typically range from 70 – 110. This is a metric measurement having to do with the size of the shaft, but it roughly equates to the 10 – 18 size that might be more familiar.  If you look on the needle package it shows both numbers, ie: 80/12.  Regardless of the type of needle you select, the larger the size of the needle, the larger the needle.  You will use the small sizes for lightweight fabric and thin thread. The large sizes work with heavier fabrics and thick thread. Simple enough.
We are often asked for an "all purpose needle".  Unfortunately, there is no such needle as there are so many fabrics and threads available.  The "Know Your Needles" booklet lists needles for both machine and hand sewing.  It is a great reference for needles.  We have some suggestions that will help you decide which needle to use.
First question: Are you sewing knits or wovens?  Sewing with knits requires a Universal Needle or Stretch Needle.  The size depends on the thickness of the knit.   If you are a quilter, you have just eliminated two types of needles.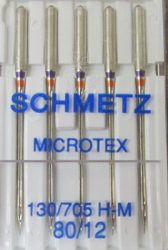 If you are a quilter using woven fabrics and batiks, we suggest the Microtex needle size 80.  It has a very thin sharp point and a narrow shaft.  If you want to keep it simple, use the Microtex 80 needle for all your quilt piecing.
As a side note, selecting the correct needle also means selecting the correct thread. We tell our customers to purchase a top quality thread and needle, then sew on whatever fabric you want.  Top quality thread would be Aurifil or the finer DMC 50wt.
Now, back to needles…..
If you are going to do free-motion quilting or work with an embroidery machine, you would want to select an Embroidery needle.  They are designed to stitch in many directions making them great for machine embroidery, free motion quilting or thread painting.  We typically use the 75/11 size unless we are using a heavy thread in which case you will want to use a 90/14.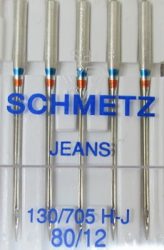 If you find yourself working on densely woven materials such as denim, canvas, or upholstery fabric, then your choice would be the Jeans needle.  This one comes in sizes 70,80,90,100,110.  These are great needles for making tote bags. Remember, the size of the needle gets larger as your fabric gets heavier.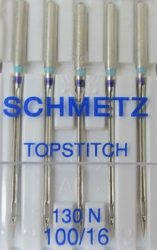 Another favorite needle of ours is the Topstitch needle.  This needle has a large shaft and very long eye with deep groves to allow heavier threads to stitch.  We use these primarily for decorative stitching with 12 weight threads.  Our favorite size is the 100 Topstich because we love to use 12wt thread.  If you want to try metallic threads, there is a Metallic needle with a fine shaft and large elongated eye.
In a nutshell, you don't need an arsenal of needles….start with  Microtex 80, Embroidery 75/11 and 90, Jeans 80 and 90, and Topstitch 100. (If you don't do decorative stitching, you could wait on the Topstitch 100)
There are always special jobs when you will need a smaller needle and finer thread, but we are talking about piecing with woven fabrics.  Add needle types and sizes as you try decorative stitching or venture into garment sewing.
Probably the most important bit of advice is to change your needle often.  Our advice:  new project = new needle.   Lesson learned:  A customer brought in her machine complaining of skipping stitches.   Her needle was badly bent.  The damage the  needle did to the bobbin case and hook on her machine was a $100.00 repair.  A new needle is about $1.25.
Although we carry several brands of sewing machine needles, our favorite is Schmetz.  They have great packaging to hold your needles, and now their needles are color coordinated for the type and the size. The top color is the type of needle and the bottom color is the size. You can see the two colors on the needles shown above.
Needle types: Microtex = purple; Embroidery = red; Jeans = Blue; Topstitch = Aqua; Metallic = Pink
Needle sizes:  70/10 = green; 80/12 = orange; 90/14 = blue; 100/16 = purple; 110/18 = yellow
We hope this will help you get the best needle for the job.  We have the needles and booklet available for order on our website at "Needles and Thread"