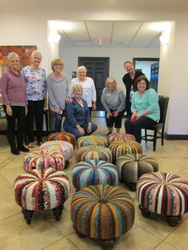 We have finished our first Tuffet Retreat at The Main House. There were a total of 16 finished tuffets, but we had some gals who finished and left before we could get this group shot.
Our retreat was 2 nights, 2 days of stitching, meals and lots of fun.  It was wonderful to see how different all the tuffets looked.  We hope you will be able to join us in one of our future tuffet retreats.
Our next retreat is March 22th – 24th.  The class begins at 1pm on Tuesday the 22th.  We'll sew that day, all the next day, and finish with lunch on Thursday, March 24th.  The cost of the retreat is $270.00 which includes two nights stay at The Main House, all of your meals, and unlimited sewing time.  We would be delighted to have you as a day student for $170.00 which includes all your meals and unlimited sewing.  We have two instructors who will help you complete your tuffet.  Each student has 3 tables to work on.  Our studio is large and has great lighting.
We have the tuffet foundation pattern available for $29.98 as well as the tuffet kit for $129.00.  You must have a kit and pattern.  Other supplies you need are minimal and a complete supply list will be sent upon registration.
If you want to do a tuffet on your own, you can order the pattern and kit on our website at Tuffets.
Sixteen gals were in our tuffet class and 16 left with finished tuffets.  These close ups show you there are endless possibilities for your tuffet.
We have a summer retreat scheduled beginning Tuesday, June 28th – Thursday June 30th.  You can register by phone at 830-896-8088.
Should you have to cancel a Tuffet Retreat, your refund will be given in the form of a Creations' gift card.