Once in a great while, a wonderful new notion comes along. This time we actually have 2 fabulous ones. We all have lots of useful tools but, we know you will love both of these new gadgets.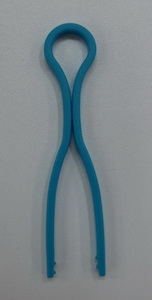 This looks like a pretty simple little plastic thing. It is, but it really fixes an issue anyone who uses threads and bobbins has run into. It's always a struggle to keep your bobbin and spool of thread together. With the funky little "Bobbin Buddie" it is no longer an issue.
Squeeze the open ends together and stick them thru your bobbin.  Wrap the loose end of the bobbin thread around the"bobbin buddie".  Squeeze the open ends of the "Bobbin Buddie" and stick them into your spool of thread.  They will expand to fit any thread opening.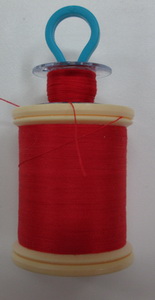 If you don't have a way to keep the thread on your spool from coming unwound,  bring the loose end of thread up and around the "bobbin buddie".  This will keep everything neat and tidy.
The first 100 we received were purchased by one customer.  The next 100 we received was split by two customers.  We now have plenty of them in stock.  We have them in bags of 20 for $7.99.  You can find the Bobbin Buddie on our website under Notions.  To go directly to the Bobbin Buddie page click here.
The Thread Director is a thread stand that attaches right to your bobbin winder or an upright spool pin on your machine.  We have waited for years for someone to "invent" this wonderful helper.  If you use metallic threads, you need this one.
This illustration shows how this goes on your upright thread spool or bobbin winder.  The Thread Director allows your difficult threads to come off the spool evenly so they don't twist like a garden hose.
Thread will feed off smoothly so now all those embroidery projects and decorative sewing techniques that call for metallic thread will be a breeze.  The Thread Director sells for $24.99.  You can find it on our website under the Notions. To go directly to the Thread Director page, click here.