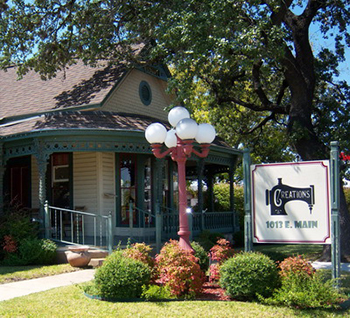 Just in case you found the Creations' Communications Blog without going through our website, here is a bit about us…
Creations has great stuff for the quilter and sewing enthusiast! We've been specializing in fabrics, patterns and supplies for quilters and sewers for over 30 years.
We are located in Kerrville, in the heart of the Texas Hill Country at 1013 Main.

Our phone number is 830-896-8088.
We're open Sundays from 12:30 to 4:00 as well as our regular days — Monday thru Saturday, 9:30 – 5:30.
We carry a wide range of fabrics, patterns and books for quilting, clothing sewing, wearable art, embroidery, wool projects, and home decor. We even have lots of fun accessories like purses, totes, jewelry and a variety of nice things to decorate your home. We are an authorized dealer for Brother.
To learn more about Creations and to shop at our online store, visit our website at: www.creations-online.com.
Next door to Creations, you'll find our retreat center The Main House.
The Main House, hosts 3 1/2 day quilting and sewing retreats with nationally known instructors, or you can rent it for your own group. Visit The Main House website for details.