Read our previous post for all the pertinent details about our 39th Anniversary Event.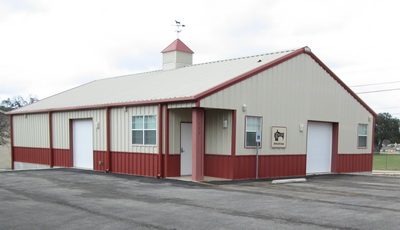 This is the warehouse where we will hold our Anniversary event.  It is located just behind Creations on the corner lot.  Any parking place you would find in Creations' parking lot would be very close.
If you were in the line last year, you will be very glad we have a new plan.  Remember, we are going to reserve a spot in line for the first 50 gals who pledge $50.00 to the Humane Society.  We won't be taking any money, but rather you will write a check to The Humane Society of Kerrville so that you will have a record for tax purposes. This is all explained IN DETAIL in the previous post.
To get your spot in line, we will take e-mail only reservations beginning Monday, March 13th at 7am.  Just send us an email saying you want to be one of the first 50 and we will hold your spot. (www.creations-online.com)  After the first 50 spots are reserved, we will take 50 more spots for $30.00.  We will limit the number in at one time to comply with the building occupancy.  Reservations for your spot in line will be only for Friday, March 31st.
Be sure and read the previous post to get all the details of how this is going to work.  There is no sense in repeating all the details.  We want to show you several of the items that will be included in the sale.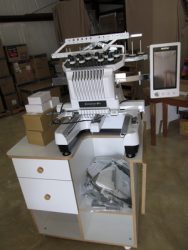 Our biggest item is the Brother PR1000 which is their ten needle embroidery machine.  This particular machine was our demo model used only in the shop with about a million stitches on it.  In the embroidery machine world, that is like new.
This machine comes with the Horn cabinet it is shown on. It includes hoops and bobbins. There are round hoops, rectangle hoops, and even a border hoop.  There is a set of "flat frames" for quick hooping.  There is also a large flat table that mounts to the machine for larger hoopings.
This is the perfect machine for someone who knows how to operate an embroidery machine as there are no lessons available. It would be perfect for someone who wanted to increase or start and embroidery business.
The retail value of the machine, hoops, cabinet is $22,000.
The price will be $9,000.  Remember, we are not taking credit cards at our warehouse sale and we will need cash or check.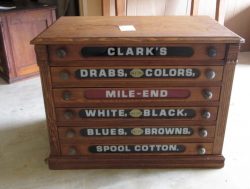 We have two spool cabinets.  These wonderful cabinets won't last long, so you will definitely want to be in that first 50 to have a chance at either one. The retail value of each is $2,200 with Creations' price at $1,999.00.   At our warehouse sale we will offer these two spool cabinets at $800.00 each.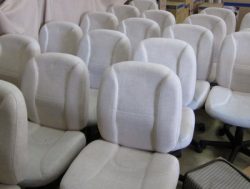 We have changed chairs again at The Main House so we are offering our Horn Deluxe Chairs at $95.00.  The new Horn Deluxe Chair retails for $375.00 so this is a great chance to have one of these chairs at an unbelievable bargain.  These chairs will be only one per family or household.  We want to give as many people as possible a chance to have one of them.
We hope you will put the dates for our sale on your calendar.  The items we have shown today are just a few "special" things.  We will, of course, have lots of fabric bundles, 1 yard cuts, fat quarters, and 3 yard cuts for those fabric lovers.