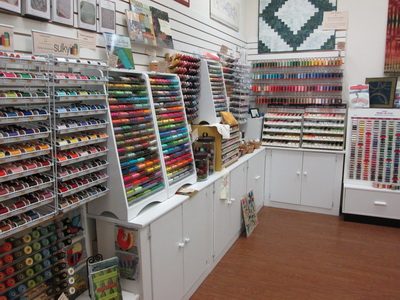 One of the most intriguing and often confusing aspects of quilting is the selection of thread.  There are so many different weights of thread and there doesn't seem to be "just plain sewing thread" anymore.
We always tell our customers to buy the best quality thread they can afford for their sewing machine. It makes such a difference in the quality of the stitch as well as how much lint is deposited inside the machine.
Our selection of thread has grown tremendously over the years.  We now carry weights of thread from 12 to 100.
The lower the number the thicker the thread.  The thicker the thread the more "showy" it will be.  Twelve weight thread is the thickest thread that will easily sew in a machine as long as you use a 100 Topstitch needle.
The higher the number the thinner the thread.  The less you want your thread to show, the higher the number you will select.  Our 100 wt called Invisifil from Wonderfil is such a fine thin thread it is great for quilting if you don't want your stitches to show.  We use it to "stitch-in-the-ditch" to anchor quilts. We use it for applique if we don't want the thread to be important.  Any size needle will work with this thread.  We recommend a 70 Microtex for applique because you don't need the needle to poke a large hole for the thread to pass through.
For decorative stitching we recommend a 12 weight thread using a 100 Topstitch needle.  We use a lighter thread in the bobbin and recommend Metrosene 50wt cotton.  Metrosene is a thick 50wt thread so it will help hold down the top thread.  We always loosen the to tension to "1" for 12 weight thread.
I must brag on our Brother machines as they make the decorative stitching such a breeze.  We always have a cheat sheet for our customers for working with heavy threads or metallic threads. With a few hints, we all have had great success with all kinds of threads.
One of the best new notions to come along is the Thread Director.  This "gadget" sits on top of the bobbin winder and allows these decorative threads to come off the spool horizontally.  This keeps the threads from twisting.  We always recommend this for metallic threads, but have also used it for 12 wt threads.
You can see this wonderful tool online at Thread Director.  The only thing I have found is that the spool cap end is VERY tight.  You will probably need to put a screwdriver  in the cap end and twist it so that it will fit easily on the spindle.  Other than that, it's a GREAT tool.
If you want to talk threads, needles or tension, drop by the shop and chat with Kathy….she loves that stuff!