We completed our June tuffet retreat last week.  Everyone went home with a finished tuffet.  We took a group shot of just the tuffets.  Can you see the oddball?  This retreat we had one square tuffet.  The square tuffet requires a few more sewing skills, but they are well worth the effort.
Our next picture will show you the maker of each tuffet.  It' fun to match up the tuffet with its owner.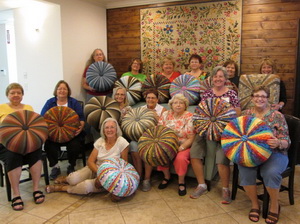 These gals came from Houston, Cypress, Midland, Boerne, San Angelo, Junction, San Antonio and even a few from Kerrville.
We have another tuffet retreat scheduled for August 23rd thru August 25th.  There are only 3 spots left in that one, so give us a call at 830-896-8088 if you are interested.
The retreat begins at 1pm on Tuesday.  We get started and sew that afternoon and evening.  We stitch all the next day and finish the construction on Thursday morning.  The retreat is over after lunch so that everyone has a chance to get on the road if you are travelling.  You can stay for two nights at The Main House, stitch with unlimited sewing time, have us prepare your 6 meals and have two instructors help you finish your tuffet for $270.00 plus supplies.  If you want to come as a day student, the fee including meals and unlimited sewing time is $170.00.
If you can't make it to a retreat, but you would to order a kit and foundation pattern, you can do that online at Tuffets.