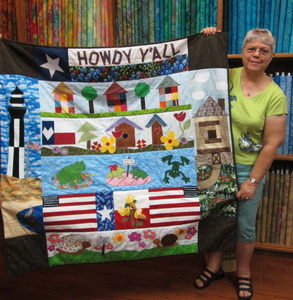 We have a winner at Creations in the Row by Row summer shop hop.
Sheri Sweet is our winner.  This gal gets around.  Her rows were from as far away as Virginia Beach, Virginia.  Sheri got a great pack of 25 bright batik  fat quarters.
If you haven't been collecting your free patterns at quilt shops across the United States, there is plenty of time as the hop continues through September 6th.  Hope you will be able to stop by.  If you would like to see our row, you can check it out at "Home is where your fabric is".