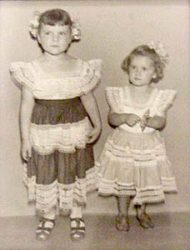 It has come to our attention that we are not those "Spring Chickens" we might like to think we are.  With that in mind and the fact that we have worked 7 days a week for over 20 years, it's time for a change.  If you shop with us often, you know that over the years,we have tried to take a day off during the week.  It just never seemed to work for us.  We know that we want to be at the shop when it is open.  The logical conclusion is to adjust the days we are open.
We have been blessed by the length of time our employees will work with us.  We want all our gals to have time to be with families, travel and do all the things they have dreamed of.  With two fewer days a week to be open, we will be able to have a fully staffed store to help you with all you fabric selections.
We weren't quite as young as the picture on the left when we started, but we have spent most of our lives taking care of Creations.  It's now time for a breather so that we can continue to work and love being at our store. Don't panic, we have no plans to quit just yet.  We want to be able to continue to do what we love and not become the two old crabby sisters who own that quilt store!  Your experience in our shop is the most important to us and we feel we can better handle this with our new hours of operation.
You will find Creations open Tuesday – Saturday 9:30 – 5:30 and closed on Sundays and Mondays beginning Sunday, September 22nd.  We don't want this change to cause anyone any inconvenience, so if you have shopping buddies, please pass the word for us.
Thinking about it, working 5 full days a week at our ages doesn't REALLY count for slowing down much!  Remember, beginning Sunday, September 22nd we will be closed on Sundays and Mondays, but will be eager to see you in our shop Tuesdays – Saturdays.