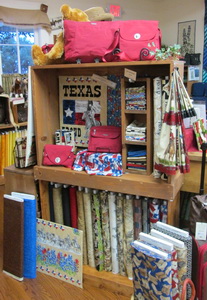 We have been in a Western print drought here in the shop. It seems when one company does western, they all do.  And then there is a long dry spell.
We are gotten in western lines from Moda, Maywood, and Blend fabrics.  Each line has it's own personality.  Moda actually has two lines, Texas Proud and Sundance Trail.  You will find bluebonnets in the Texas Proud line and some great western prints in Sundance Trail.
Maywood's line is called Hold 'em or Fold 'em.  Blend fabrics came thru with brightly colored boots and horseshoes.
There is something for everyone NOW!!!!
Visit the Texas/Western Fabrics page of our online store to find our latest selection.