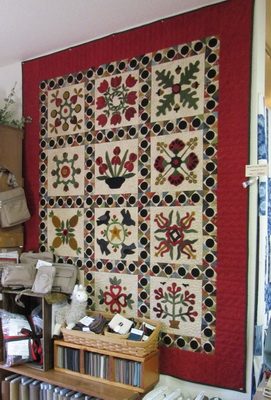 We have always loved wool and have carried it in our shop for all of our 39 years.  Now we admit that in the early years, it was yardage that we used for garment construction. We still have wool yardage, but it has been felted to use as backgrounds for applique, although it would be a great vest or jacket.
We have a wonderful selection of hand dyed wool.  We carry wool from Blackberry Primitives, Primitive Gatherings, Wooly Lady and Mary Flannagan.
Since hand dyed wool is expensive and you usually need small pieces for applique, you will find all kinds of sizes in our shop.  We have, of course, fat quarters.  That often is too much of a good thing so we have many smaller sizes.  You can find our rolls that are approx 7″ x 16″.  We then have pieces that are approximately 7″ x 8″.  Even those sizes can be too large so we have 5″ charm squares and even 3″ squares.  All of these can be individually purchased as well as some pre-packs.
We are often asked for the difference between "wool felt" and "felted wool".  You will find only "felted wool" in our shop. Felted wool starts as a piece of wool fabric and then is washed and dried with heat to cause it to shrink.  Wool felt is a felt made with wool fibers, but it was never a piece of fabric. Wool felt is made from compressed fibers, that create the felt.  Wool felt is much stiffer than felted wool.  Rayon fibers are added to the wool felt to make it somewhat softer.  Wool felt is less expensive than felted wool.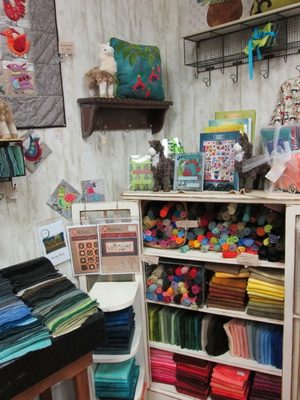 Our felted wool has been hand dyed and laundered to make it ready for applique or rug hooking. It is much softer and thicker than wool felt.   We are a great source for all those small pieces to add to your wool stash.  We even have a package of wool called "Squares and Rectangles" which include small pieces of lots of colors. This is a real value for wool applique.
If you would like to take a look at our wool selection online, you can see it all at Wool Stuff.  If you would like to order the pictured quilt kit, you can go directly to Beauty All Around Quilt Kit.
We love wool and hope you will want to give it a try or enjoy adding to your selection.
We are excited to have coming a 60 color selection of wool thread from Sue Spargo.  We love to use wool thread for wool applique.  It blends into the wool with a whip stitch so that it is almost invisible.  You can then add all the embellishment stitches you would like.  The very best news is that these spools will contain 70 yards of thread.  The price will allow you to have a great selection of colors and not have to purchase the large spools that have nearly 400 yards and a price to match.  This thread won't be in until late November, but we are already making room and will put it on line when we get it.