"Listen, my earthlings,
Whilst I whisper in your ear;
I do speak quite softly,
But I want you to hear.
Angelique Desiree. . . .
Yes, that is my name,
And up here in Heaven
I've gained quite much fame.
From my post by the pearly gates,
I watch over my brood;
I see to their welfare,
I gauge every mood.
"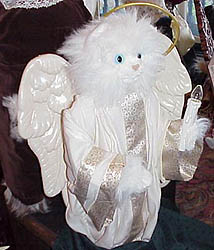 I do wish to tell you
('Fore you go the next step),
You're just 'bout to meet cats
The likes not yet met.
Young Sam is our "least one",
But they chose him to be
The very first speaker,
Though quite young is he.
But each cat is special,
And has a story to tell,
So do pay attention,
And do listen well.
Begin the Stories of the
Victorian Parlour Cats